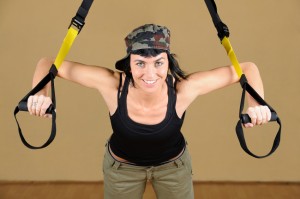 Each of us is at our own unique fitness stage. How we maintain that level of fitness, or more ideally, develop it further, is likewise totally unique. The TRX suspension training system aligns well with that concept of individuality, because it's based on body weight resistance. You're essentially using your own body to create a workout.
Working with a TRX trainer can help you better use the system to accomplish your personal goals. If you want to build strength in your arms, your back, your legs or your core, a personal trainer who's well-versed in the system can work with you to pick out the right exercises – and keep you motivated to follow through.
TRX exercises are almost unlimited; rows, presses and fly movements can all help build strength in the arms, lunges and squats can help the legs, and carefully executed pendulum and dip movements can address the core. Combining exercises, like using Power Plate with TRX, can add even more balance and strength-enhancing effects. Having a TRX trainer on hand to help you stay in alignment and watch your movements is a major part of ensuring that the workout is both effective and safe.
TRX workouts can even be done by those recovering from injuries – physical therapy and TRX can easily go hand-in-hand under the supervision of a trained therapist. The key results of TRX workouts – balance, flexibility, core and joint stability, and strength – align seamlessly with a progressive recovery and rehabilitation plan. 
Right in the heart of Minneapolis, TRX training and classes offered by Studio U can help you on the road to increased fitness, no matter what stage you're currently at.