Experience an individual and viable approach to reach your fitness and wellness goals.
Owned and operated by a licensed physical therapist and certified pilates instructor with over 20 years of experience, Studio U is a private health and fitness studio in Saint Louis Park that overcomes the inadequacies found in many of today's traditional fitness centers. Whether you're a hardcore athlete trying to achieve the next level; repairing your body from an injury; looking to tone, strengthen and improve your look; or just trying to erase those everyday aches and pains, personalized private training sessions under the guidance of a physical therapist will provide you with one of the most sustainable methods to achieving your goals!
Studio U has moved to Saint Louis Park!
Please join us in our brand new space next to the Shops at West End in Saint Louis Park.
Studio U Blog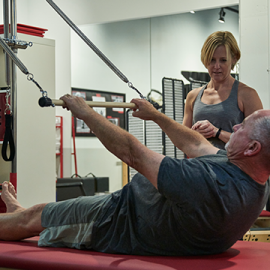 Studio U founder Kristin Procopio sat down with Trailhead Health recently to talk all things physical therapy and pilates. Watch the series of videos to hear more about why Kristin founded Studio U,... Read More