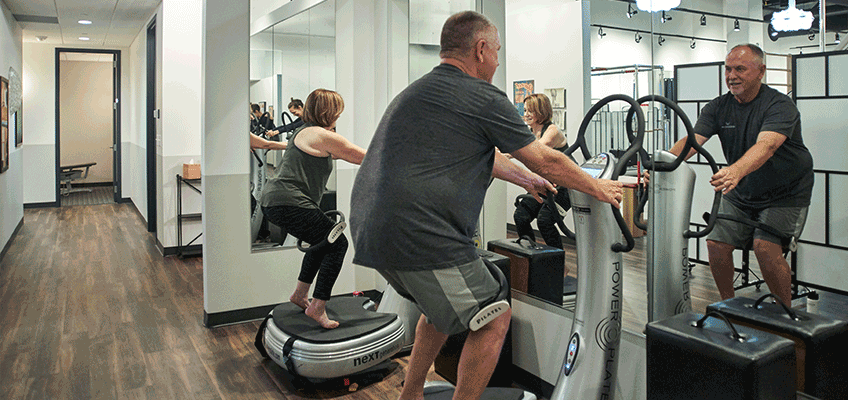 Group fitness is everywhere right now, and for good reason. Working out with other people is more fun, and as studies are beginning to show, more effective. If you have never tried a group fitness class, or it's been a while, here are some great reminders of why when it comes to working out, there's strength in numbers. 
You'll actually show up
As the old saying goes, "showing up is half the battle". Whether you have a group of friends that you've met at class, or you are trying a new class with a friend, having someone waiting for you will make it much harder for you to skip your workout. It's obviously much easier to bail on your own solo workout than a meeting with a friend. 
One study found that 95 percent of people who started a weight-loss program with friends finished the program, versus only 76 percent of those who tried the program on their own. 
You'll work out harder
There's something undeniably motivating about working out with other people. In a group fitness class, you can look around the room at any time and see other people who are giving it their all. It's a very different feeling from dragging yourself through another treadmill workout on your own. You're less likely to give up and quit the workout when there are several people there to see (although you should take breaks if you need them!). Encouragement from the instructor, classmates, or friends will keep you going. 
A group fitness class might even bring out your competitive side. A study at Kansas State University found that people increased their workout time and intensity by 200 percent when they worked out alongside someone who they felt was in better shape. 
You'll have more fun
Boredom is a thing of the past when you have an instructor who presents a new mix of exercises each time you go to class. Plus, you can switch things up throughout the week by taking different classes. 
You'll also build camaraderie with the other members of class – after all, you've just completed a killer workout together. If you keep going to the same class, you'll likely become part of a community of friends. 
You'll leave in a better mood
You've probably heard that when you exercise your body releases a endorphins, putting you in a better mood. A group fitness class only amplifies that effect. You're working out harder, having fun, and socializing – it's hard to leave in a bad mood after that. 
You'll come back for more
If a class is fun and you have friends going too, why wouldn't you come back? A group fitness setting makes it much more tempting to come back for another workout again, again, and again. It certainly is more appealing than the set of weights collecting dust in your basement. 
If all of this sounds good to you, you'll like our holiday group fitness special. From now until the end of December, when you buy a $20 power plate class for a friend you'll get a free class for yourself. Get a workout in, have fun with a friend, and cross one gift off your list – sounds like a win to us. Contact us at 612-396-9780 or info@studiouonline.com to take advantage of this deal. Busy this month? Class does not have to be taken in December, only purchased.