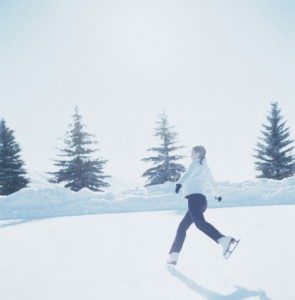 The lakes are frozen, the rinks are groomed and now that professional hockey is back, it's tough for any Minnesotan to ignore the allure of the ice. But since we only get to enjoy skating a few months out of every year, it's logical that you might feel a little wobbly after you've laced up and taken your first step back out on the ice. Fortunately, there are things you can do to make skating safer, easier and a lot more fun.
Skating in itself is great exercise, and a perfect excuse to get out and move your body during the long winter season. But knowing the best ways to move will help keep you on your feet – which we all know can be a challenge – and moving effectively.
Pilates classes can be an enormous help in learning to use your body wisely. In Pilates, the "core" is at the heart of all movement, and a personal trainer can help you learn the most effective exercises for skating. Using the CoreAlign machine will also help to build balance while incorporating movement.
You might think it's just as simple as stepping out onto the ice and shuffling your feet, but you can get much more out of skating when you're doing it right. What you learn from your personal trainer will help you gain a little extra finesse on skates, but it can be useful for a lot of other sports, as well, from cross-country skiing to rollerblading (when the ice melts).