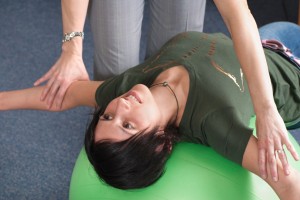 Every athlete knows the importance of physical therapy – but what about artists? Dance is a combination of athleticism and artistry, and that's why dancers need special attention to keep their medium – their bodies – in optimal condition.
There's no doubt about it: dance can be grueling, no matter how graceful and effortless it looks to the observer. The demanding nature of the craft means that injuries often come along with it. When dancers get injured, however, it's of utmost importance that they heal in the right way, because they depend on their bodies so much.
While Studio U offers a variety of classes, we also offer one-on-one physical therapy and many of our staff members have dance backgrounds. A physical therapy routine built around pilates, CoreAlign and personalized attention helps dancers get back in form in a healthy, timely way that respects the body's healing process.
For dancers who haven't suffered major injuries, working with a physical therapist or personal trainer is a gateway to greater potential. By working to develop existing strengths and to overcome challenges, dancers can find breakthroughs that allow them to take their abilities to a new level.
Contact us to learn more about physical therapy for dance and how Studio U's therapists can help.