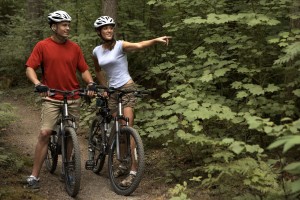 The Twin Cities metro has earned a national reputation as one of the best places to enjoy bicycling. As the cities have developed biking infrastructure and moved to support bicyclists with new lane designations and even bicycle boulevards, the sport is gaining even more popularity.
If you've ever thought about commuting to work by bike, or if you're just looking forward to hitting the trails on weekends, it's important to prepare your body for the very thorough workout that biking will give you.
Now that the biking season's arrived (or warmed up, for those who brave the winter winds), take your biking to the next level with these tips.
Get your muscles ready. Doing exercise that conditions the muscle groups used during biking is a great way to get your biking season started. Focus on calves and hamstrings as well as hip flexor flexibility. Strengthening your postural muscles and core is essential to support your spine in a bent-over position.
Consider clips and cages for your pedals. When you push and pull through your pedaling stroke, you'll be moving more efficiently. Add clips or cages to facilitate equal work during the push and the pull motions. Give yourself time to get used to clips and cages if you've never used them before.
Find out how you can be a better biker. Seeing a physical therapist or a personal trainer can give you insight into bad habits you've formed and how to correct them so that you can bike comfortably and safely. One-on-one personal training gives you more opportunities to address your unique needs, but group training is also an option.
Studio U's personal trainers and physical therapists can help you get ready for the biking season, whether you're pursuing top performance or simply a pain-free leisure ride.