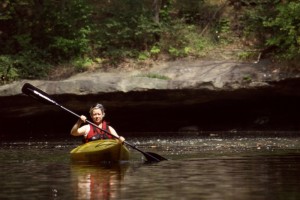 If there's one thing that people from Minneapolis know how to do, it's make the most of the all-too-brief months of summer. Knowing what comes on the other side of fall makes everyone eager to get out, be active and soak up the sunshine as much as possible. Keeping your body in shape – or getting it there – can be an integral part of enjoying the city's most popular summer activities to the fullest.
For a great all-around method to get your body tuned up for the season, it's hard to beat pilates. While you see plenty of press devoted to how it can help you achieve a beach-ready body, the effects of pilates go beyond the cosmetic. Starting a routine is best done with a pilates instructor so that you can get the full benefits of the system, without wasting time.
Studio U offers a variety of programs, from pilates classes to one-on-one personal training, to get you ready for these favorite Minneapolis summer pastimes:
Canoeing and kayaking: While it might look like it's all about the arms, paddling requires strength in the center of your body as well. Building core strength is central to the whole idea of pilates, so you'll be able to paddle with extra power. The added benefit is that pilates will also help you build arm strength.
Biking: One of the most noticeable effects of pilates is improved posture, which comes as a result of a stronger core. Good posture and strong muscles are important for biking – both can help you avoid back pain and maintain a comfortable position on your bike. Pilates can also strengthen your leg muscles for added pedaling power.
Swimming: Whether you're taking a dip in the Uptown lakes or headed to a pool party, taking a dip is a requirement during a Minneapolis summer. The pilates focus on creating a strong core gives you better ability to move those arms and kick those legs to propel through the water with ease.
No matter what your favorite summertime activity might be, pilates also helps build stamina, so you can add extra miles to your run or your ride, and stay on or in the water that much longer. Contact us to learn more about pilates classes that can make your summer even more fun.