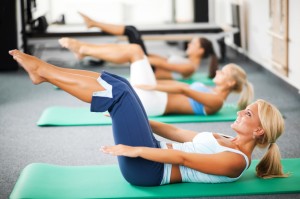 When you're beginning a new exercise or fitness routine, it can be hard to know what to wear, particularly if you're starting from square one. A trip to the mall doesn't always provide intuitive help, either, given the almost endless options available these days.
If you're getting started with a pilates program, you should keep these points in mind when shopping:
Freedom of movement: With pilates, you'll be stretching and moving your body in all different directions, and you want clothes that can move with you. It's important to look for good quality stitching to ensure that your clothes won't be prone to seams coming lose over time. Some pilates practitioners like wearing tank tops for the feeling of extra upper body freedom, but it's up to you to know what you're comfortable with.
Form fitting: A loose T-shirt and shorts or sweats might seem like the comfiest things to wear to a workout, but they're not great ideas for pilates. Because you'll be bending and twisting and moving, you want clothes that stay close to your body and won't slip, shift or inadvertently give everyone a show.  You also don't want loose fabric impeding your movement on any pilates-related equipment, like the CoreAlign. Yoga pants work, but you can also consider athletic or running tights (capri or full length) that are cut close to the leg.
High-tech fabrics: Chances are, you'll work up a sweat during your pilates workout. To keep yourself feeling at least a little fresher, consider buying clothes made from fabrics designed to keep you cool and wick away moisture.
If you're starting out a pilates program with Studio U, we'd be happy to give you some extra advice on what to wear – just give us a call.